A Response to
Ecological Concerns
from Holistic Education
---
"It is in doing good that one becomes good;
I know of no practice more certain."

Jean-Jacques Rousseau
That we face ecological challenges, perhaps even perils, seems generally accepted, if not widely acted upon. Information about these challenges has been widespread for several decades now, but very little behavior has changed to address them positively. That education should play a vital role in meeting these challenges or perils is less accepted. At most, it seems to be considered as a "good" subject for education, but not a "necessary" one (like algebra, which is required by all students for graduation from high school). Holistic education, however, has felt that learning how to live with and on our planet is fundamentally important. Moreover, such learning (because it needs to change behavior) must involve developing relationships with and changing perceptions of nature. Holistic education has also maintained that mainstream education is not geared for such learning.
For the sake of argument, let us assume that mainstream education did feel that ecology was a necessary subject for study. Can education as it is normally practiced meet the ecological challenge? Education, in the main, considers its job to be the conveyance of information and the development of certain academic skills (and for craft classes, certain craft skills). The question has to be asked, "Is our ecology in peril because we lack information or lack skills to act in more ecologically responsible ways?" The answer is clearly, "no." We have the knowledge and abilities to act less destructively, but do not. Knowledge and behavior are not as linked as education would like to believe.
What has been learned from several topics in education concerning destructive or dangerous behavior has demonstrated that simply having information about such behaviors does not significantly alter them, or if it does, the alteration is generally only short-lived. This has been seen with sex education to prevent unwanted pregnancy, drug and alcohol education to prevent substance-abuse, and AIDS education to prevent the spread of HIV. Students have time and again demonstrated that they can take courses in these subjects, pass tests to show they have absorbed the information, and then act as though they knew nothing. Often, when they suffer the consequences of acting in contradiction to their knowledge, they express surprise that it happened to them.
This unfortunate track record does not mean that education can't do anything. Behaviors or life-styles do change, but they only change when mind-sets or consciousness are changed. The question naturally follows, "What changes mind-sets and/or consciousness, and how can education play a positive role in this?"
One thing that seems to change consciousness is consciousness-expanding experiences, life-altering events, epiphanies, "ah-ha" moments, etc., but these are usually taken to be acts of fate or divine inspiration, and therefore outside human control. They are certainly beyond the commonly perceived purview of schools. Yet, there are a great many educational establishments which are entirely based on giving students such experiences. These are often outdoor-education establishments, community service endeavors, career placements activities, adventure-travel businesses, and many therapeutic establishments created to make life-style changes. The success of these establishments should be learned from, not ignored.
Other changes in consciousness are seen to be the result of slow cultural change (a kind of attrition) taking decades if not generations to occur, and usually occurring only when the cost of change is relatively low. This has been seen in attitudes towards slavery (which changed faster in the North where the cost of doing away with it was lower than in the South), women's rights (which history seems to indicate gained recognition when women were needed to replace men in the workforce during the world wars) and children's rights (but only when child-labor was no longer needed), etc. If the cost of change is high, and/or the time in which the needed change must occur is short, the cultural-attrition method of change is clearly inadequate.
Holistic education has long contended that some things can only be truly learned through experience, while other things can only be learned through intellectualizing. We can really only learn to ride a bicycle through the experience of riding one, whereas no experience can teach us the distance from Jupiter to the sun which we can only derive intellectually. Both forms of learning have their place, and holistic education claims that great confusion and 'mis-learning' occurs when the wrong kind of learning is applied to a subject; i.e., one could never learn to ride a bicycle from reading books about it. Holistic education claims that such an application of the wrong kind of learning is just what occurs in many subjects in much mainstream education because mainstream schools are really only geared for the conveyance of information, not experiences. Ecology is one such subject (other subjects are 'character education' and 'values education' - no one develops character or values by reading about them or discussing them).
The question naturally follows, "What kinds of experiences of nature might provide some assistance in meeting the ecological challenge?" At one end of a spectrum of experiences of nature we might consider that of a young person who is being forced to mow the lawn, and perhaps at the other end the experience of a young person discovering the beauty and wonder of some natural setting. Not all experiences of nature are the same. The kind of experience of nature that might provide a real change in behavior towards nature is one that changes a person's relationship with nature. Such an experience might be one of beauty, awe and wonder (which many people report as generating a sense of transcendence) or it might be a simple act of caring for something in nature and feeling the 'rightness' of such action. What is important is the relationship to nature, and this seems to have bearing on our relationship to others and even ourselves.
If you are in harmony with nature, with all the things around you, then you are in harmony with all human beings. If you have lost your relationship with nature you will inevitably lose your relationship with human beings.
- J. Krishnamurti
Holistic education has contended that the motives for our actions are important for us to pay attention to and learn about. If a student is having experiences of caring for nature and acting ecologically for the sake of grades, then such actions are just another form of self-centeredness, and nature, yet again, is being exploited for personal gain. The invisible lesson (to exploit nature for personal gain) is in direct contradiction to the intended lesson. This same invisible lesson is often the one that is learned when students hear ecological messages which emphasize that we need to save the rain forests, rivers and lakes, the ozone layer, etc. because we as humans will suffer from their degradation. Such messages keep self-interest at the center of concern. From such messages it would follow that if the degradation of something in nature did not cause human suffering, it would be alright. Yet this is the very relationship with nature that has caused the ecological crisis. We thought our pollution and depletion of natural resources would not cause us problems, only to find years or decades later that it does. How then can we help young people (and older ones for that matter) have relationships with nature that do not end up contributing to the very ecological problems we need to solve?
Holistic education has long asked fundamental questions about the relationships we have, as individuals and in the collective. If the 'self' or the 'me' has preeminent importance, then relationships with everything (spouses, family, friends, neighbors, society, etc.) are necessarily mediated by self-interest, and the closest one can get to care or cooperation with something else is mutual self-interest. Yet every religion and every traditional wisdom has the diminution of the 'I' or 'self' as a foundation. 'Selflessness' is universally seen as a hallmark of good parents and spouses, as well as a virtue that allows substantive relationship with friends, contact with whatever is considered sacred, and, when actualized in larger settings, creates heroes or even saints. This is one of the reasons why self-knowledge is given such importance in holistic education. Without understanding ourselves, and the wrongful preeminence we often give to ourselves, we can never have rightful relationships to anyone or anything else, and that includes nature.
Of course, children must acquire information about the environment and about the dangers currently posed by our relationship to nature. Children must also have a variety of experiences of taking care of nature, not for any secondary reward but simply for the intrinsic reward of doing so. Children must also have experiences of the grandeur of nature, of nature as an expression of something much larger and more significant than themselves. And throughout these experiences of service and wonder, children must be encouraged to ask questions about themselves and what might be a 'right' relationship to others and to nature.
---
The highest function
of education
is to bring about an integrated individual who is capable of dealing with
life as a whole.
-J. Krishnamurti
---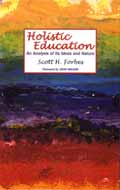 Book Review by
Patricia English:
"a touchstone for all those...who dare to believe that education, in the fullest and deepest sense of that word, can lead to the awakening of true human intelligence."
---