Holistic Education
Links for Teachers
---
For teachers who are inquiring into the field of holistic education, here are some links that you might find helpful. These resources can also be of value for researchers or for parents who are educators in the home.
Frequently Asked Questions about Holistic Education - and answers about teacher training, distinctions of what it means to teach in holistic education, student outcomes, further readings, and networking in the field.
Articles - introductory essays about the field, along with essays on the values in holistic education, freedom in education, and Krishnamurti's insights into education.
Online Bibliography - a lengthy reading list of books in and about holistic education and related topics.
---
The highest function
of education
is to bring about an integrated individual who is capable of dealing with
life as a whole.
-J. Krishnamurti
---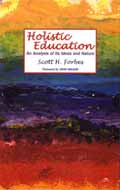 Book Review by
Patricia English:
"a touchstone for all those...who dare to believe that education, in the fullest and deepest sense of that word, can lead to the awakening of true human intelligence."
---